Posted by:
admin
| 07/30/2007 at 11:29 | 2008 views
Today, we will share an array of Bad Religion-related scores, human interest stories and the obituary of emo dealt by Greg Graffin with you.
"It may not look like it, but this took me a long time because I had to change him around and cut & paste with only MS Paint.
If anyone's interested they could add the other members too... although every time I tried to do Brett it came out female for some reason."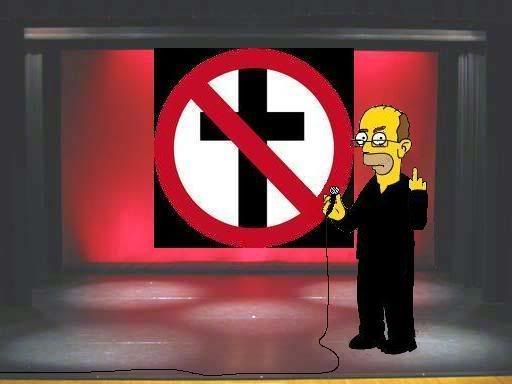 Many thanks to BRP for this excellent rendition of a yellow Graffin!
"A guy in Texas proposed to his girlfriend during the middle of Bad Religion's set at the Warped Tour on July 14th. I was just reading random stuff and came across it. Nothing like holy matrimony and Bad Religion!"
(Go about halfway down
this page
on the right for the girl's comment.)
Thanks to Creighton for this news!
"I was listening to my Sirius radio today and the station (Faction 28) does updates from the Warped tour. The lead singer from Revolution Mother does them twice a day. In todays update he said a bunch of the bands were at a bar in the D.C. area and were trying to order drinks. The bar was pretty jammed so it was taking time. One of the singers from an Emo band on the tour (he said he was wearing makeup but didn't give a name) Started making a scene trying to big wig his way to service. Hetson told him to shut the fuck up. He didn't listen, and started walking on the table makeing a bid sceen. Hetson gets his beer and throws into this guys face telling him to shut up. The update guy said his makeup was ruining down his face and he was soaked."
If anybody knows who the singer was, reports are very welcome!
Credits go to Blitzstyle for this anecdote.
Going on, we are proud to present you Modern Man Greg Graffin VS Emo Guy!
Thanks to Atheist Peace for the find!
Check out the Answer Wiki!
You can
leave your Warped impressions
,
add your interpretations for NMoH
and just generally look around for all sorts of Bad Religion trivia!