Posted by:
admin
| 05/20/2007 at 15:52 | 1685 views
Updates are in red!
KROQ Loveline
Download it
here
.
KROQ Weenie Roast Y Fiesta
The setlist:
American Jesus
Digital Boy
Social Suicide
Honest Goodbye
You
Sorrow
Heroes & Martyrs
Struck A Nerve
Infected
LA Is Burning
Honest Goodbye
MP3 from the Weenie Roast 2007.
Heroes & Martyrs
MP3.
Both were ripped from the KROQ Internet stream.
Thanks to Ross!
And
here the Weenie Roast video webcast
.
"It is the complete .asf file (this is the raw stream source). It is 300MB and includes most of the previous set and a little of the following (I don't care about the bands, but I didn't want to miss anything). All in all, it is about 1hr long, where BR's set is about half an hour."
All credits and thanks go to Mike!
Here is the Bad Religion only show without the other bands!



Here is the MP3 version of the Weenie Roast!

Alternate mirror.


Thanks to Ross again!
MTV News has an
overview
of the KROQ Weenie Roast up.
"With the crowd now suitably amped, one of the most anticipated bands of the day, Bad Religion, made its way onstage as Linkin Park's Chester Bennington and other artists took a side-stage vantage point to watch. Among their catalog of hits, the Bad boys treated the fiesta-goers to the new single "Honest Goodbye," off July 10's New Maps of Hell. Scoring points for timeliness, the band also cranked out "Los Angeles Is Burning," calling to mind the actual L.A. wildfires from earlier this month."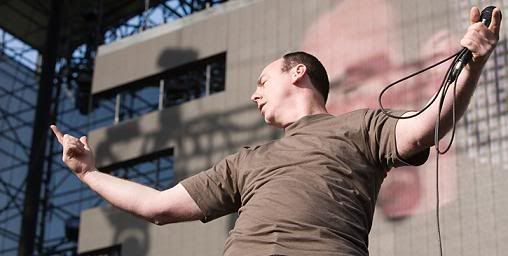 The Spinner also has a piece about the show
here
. They spelled Honest Goodbye as 'Fondest Goodbye'.
Bad Religion previewed 'Heroes and Martyrs' and 'Fondest Goodbye' from their upcoming 'New Maps of Hell' album. "We have only rehearsed them a few times," frontman Greg Gaffin told Spinner before the band's set. "It gives us an edge."
"You know that feeling that everything's going to fall apart at any second?" added guitarist Jay Bentley. "That's what we're going for."
Check back, as we're going to update this once we get new material!